Wipliance Named CTA Integrator of the Year for 2019
Bellevue, Wash.-based Wipliance receives 2019 Consumer Technology Association TechHome Division Integrator of the Year Award at CES 2019.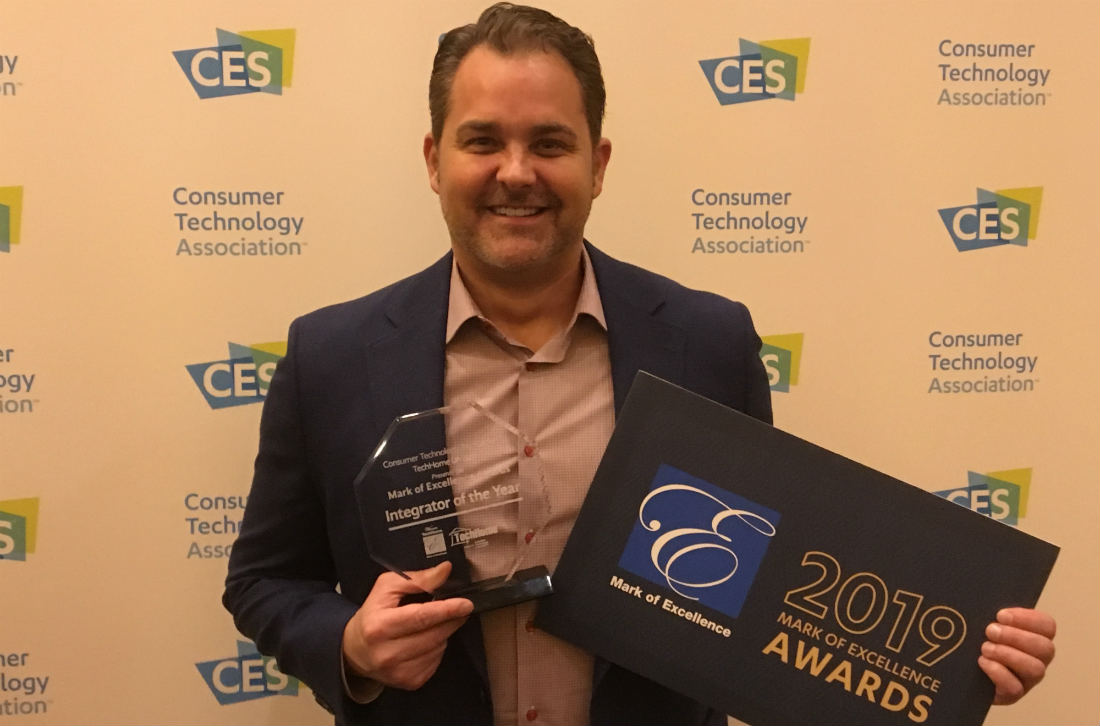 Jason Knott
·
January 10, 2019
"I have been coming to CES for 33 consecutive years and I was still just as excited to attend the show as I was for the very first time," said Lee Travis, owner of Wipliance, a Bellevue, Wash.-based custom integration firm as he accepted the Consumer Technology Association's TechHome Division's 2018 Integrator of the Year at CES 2019. Travis' ability to maintain that youthful exuberance for his business and the technology is among the reasons his company was recognized by the CTA.
The CTA Integrator of the Year Award is presented to a custom integration company that has shown proven leadership both inside and outside the industry.
Wipliance is the No. 62 company on the CE Pro 100 with $4.6 million in revenues from 151 custom installs. That equates to $30,464 per install. The company is also one of the most efficient in the industry, producing $230,000 in revenue per employee from its 20 staff persons.
Wipliance offers solutions for audio video and smart automation that are unique to the homeowner and their lifestyle, and easily customizable to add value to the space. The company works with high-end homeowners as well as business owners for retail, restaurants and office spaces.
Related: Mark of Excellence Awards Winners Announced at CES 2019
Based in Bellevue, Wash., Wipliance recently opened a second location in Scottsdale, Arizona. The company is highly engaged in the industry as a member of the CE Pro 100, as well as the Control4 Circle of Excellence for 2018.
Regionally, the company is a member of several professional organizations, including the King County Master Builders' Association and Seattle Executives, the ASID, the Home Builders Association of Central Arizona and the ARA Arizona North Chapter.
"It truly takes a great team and a little bit of magic to create a custom installation company. We have the opportunity to work on some of the coolest projects in some of the most amazing locations, and for that I am so grateful."
— Lee Travis, Wipliance
"I am honored," said Travis to the gathered crowd at the Venetian Resort in Las Vegas for the Mark of Excellence Awards ceremony at CES 2019. "I am proud to represent our teams back in Seattle and Scottsdale. It is because of their hard work and dedication, and I am thrilled to accept this on their behalf.
"It truly takes a great team and a little bit of magic to create a custom installation company. We have the opportunity to work on some of the coolest projects in some of the most amazing locations, and for that I am so grateful," said Travis.
"I'd like to thank all of our manufacturers for bringing us the latest technology. Most of all, I'd like to thank my family for supporting me in the pursuit of excellence," he added.
In addition to notable commercial projects including historic Seattle institutions, Wipliance has worked with several condo-style MDU communities, developing customized packages.
One primary objective of the company's system designs is to simplify multiple solutions into a single interface. Wipliance is also setting itself apart from a marketing standpoint by creating before/after videos on its installations, such as "Smart Living with Alexa."
The company caters to builders with special events, including its Evening of Technology, Luxury Outdoor Living and Smart Home Happy Hour.
---
2019 State of the Industry Special Report - CE Pro Download
The custom electronics industry saw a healthy 8 percent growth rate in 2018, down slightly from the blazing 11 percent growth in 2017 but still admiringly strong. Our 2019 State of the Industry indicates that readers expect to see even more growth in 2019. Get your copy today.
---
About the Author
---
Jason has covered low-voltage electronics as an editor since 1990. He joined EH Publishing in 2000, and before that served as publisher and editor of Security Sales, a leading magazine for the security industry. He served as chairman of the Security Industry Association's Education Committee from 2000-2004 and sat on the board of that association from 1998-2002. He is also a former board member of the Alarm Industry Research and Educational Foundation. He is currently a member of the CEDIA Education Action Team for Electronic Systems Business. Jason graduated from the University of Southern California. Have a suggestion or a topic you want to read more about? Email Jason at jknott@ehpub.com
Follow Jason on social media:

Jason also participates in these groups:
LinkedIn · Google+
Business
People & Places: Origin Outfits IBS Home; AVPro Hires Billingsley; AWA adds Spolar
HTA Marks 1st Year Anniversary with 135 Members
2019 CE Pro 100 Open for Entries
Creating the 'Perfect' Scripted Demo, Showroom Tour
Lutron Acquires Limelight Commercial Outdoor Wireless Lighting Control
View more on Business
Take Our Latest Quiz
How Well Do You Understand Ethernet Cables and Connectors?
Bose