When a 'Simple' TV Mounting Job Goes #SoCustom
This simple little corner-mounted TV job took some serious engineering, wall supports, custom metal and a bunch of patchwork by the pros at Cloud9 Smart.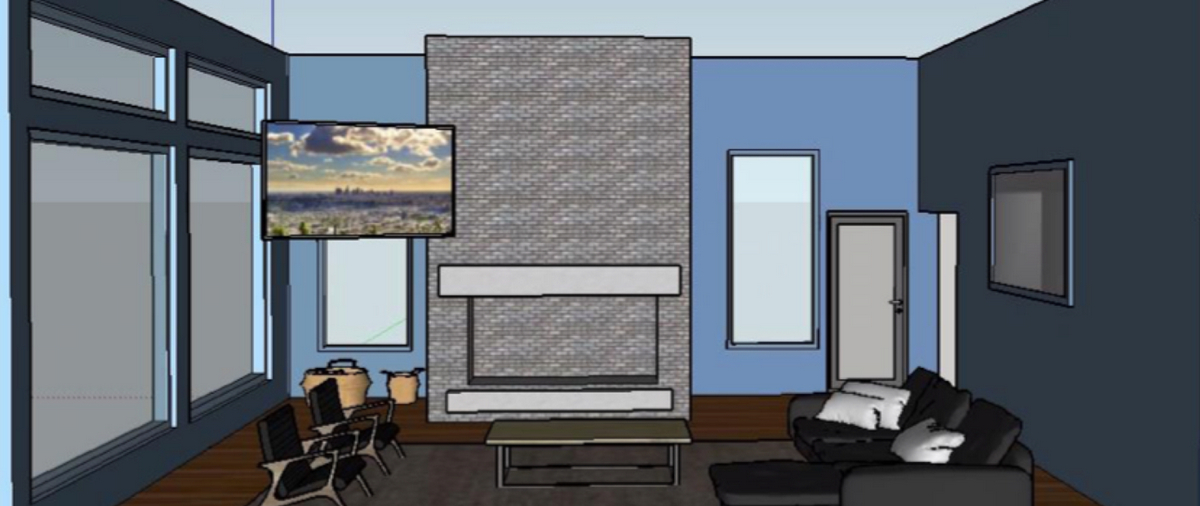 Julie Jacobson
·
June 15, 2018
The client had one simple request: "Can you mount a TV in my living room?"
"No problem," responded New York City-based Cloud9 Smart.
But this was no $99 Craigs List hang-and-bang. Despite having a big open brick wall above the living-room fireplace, the client specified that the TV be mounted in a tricky corner between window, just beside the brick wall.
Posting the project on Linkedin, Cloud9 COO Chris Smith explains the process (reprinted with permission, slightly edited for grammar and clarity):
Engineer visits site, takes dimensions, gauges clients expectations, returns back to the office.

Engineer documents entire solution including all parts, pieces, required wiring, paths, custom equipment.

Documentation set completed and rendering created.

Custom mount ordered from Future Automation to space TV more than 4 feet from side wall to give the client their requested mounting position.

Project manager (PM) works with contractor for bracing, wall support, electrical and wire runs, patching, painting.

Three technicians and one PM on-site to mount the 75-inch TV more than 6 feet off the ground.

Clean and tidy installation

Happy Customer!!!
#SoCustom Elements
TV: Samsung
Baluns: Atlona
Mount: Future Automation
Control: Control4
Cables: AudioQuest
Drawings: Visio + NetZoom
Rendering: SketchUp
As Smith explains: "You know ... just hanging a TV."
Colleagues Respond
The obvious question (from yours truly) was: "I know it's a 'sin' to mount above a fireplace, but why not in this case? Seems to make sense with an expansive brick wall there."
Smith replied, "Client didn't want to mount in front of the stone and asked for it right where we put it."
And then joked, "We are trying to counteract all of the downward-bent necks from people looking at their cell phones so now they have to crank them the other way
"
An interior designer noted, "Most people don't realize how much time and effort goes into 'small requests!' Bravo for highlighting this!!"
An integrator responded, "All the unsung heroes in the background helping to make a 'simple TV install' happen. Perfect description. [flexing-muscle emoticon]"
Smith: "Thank you ....We take pride in the work we do and delighting our clients. Always nice to see appreciation coming from within the industry."
In response to questions, Smith indicates the company used Visio with NetZoom stencils for the line drawings and SketchUp software for the renderings.
Show us the little things you do that are #SoCustom. Tweet pics, descriptions, images, whatever ... using the the hashtag #SoCustom and our @CE_Pro handle or send an email to jjacobson@ehpub.com.
About the Author
---
Julie Jacobson, recipient of the 2014 CEA TechHome Leadership Award, is co-founder of EH Publishing, producer of CE Pro, Electronic House, Commercial Integrator, Security Sales and other leading technology publications. She currently spends most of her time writing for CE Pro in the areas of home automation, security, networked A/V and the business of home systems integration. Julie majored in Economics at the University of Michigan, spent a year abroad at Cambridge University, earned an MBA from the University of Texas at Austin, and has never taken a journalism class in her life. She's a washed-up Ultimate Frisbee player currently residing in Carlsbad, Calif. Email Julie at jjacobson@ehpub.com
Follow Julie on social media:
Twitter · LinkedIn · Google+
Julie also participates in these groups:
LinkedIn · Google+
Home Theater
Product Briefs: Dish Apple Business Chat; Savant, Google Home; RTI Jandy Drivers; Luxul PDU Drivers
Move Over HDBaseT, VR Industry Embraces USB-C for One-Wire Tech
Integrator Challenged to Mount Two TVs on One Fireplace
CEDIA 2018 Find: TV Template Wins the Show for Best Instructional Video
ADA Custom Built Program Puts Integrator Brand Name Front and Center
View more on Home Theater
Take Our Latest Quizzes
Quiz: Is Your Company Performance Above or Below Average?
How Much Do You Know About Cell Phone Signal Boosters?
How Efficient Is Your Service Department? Take the Quiz
5G and the Need for Cellphone Signal Boosters—Do You Know Enough?
How Well Do You Understand HDBaseT?