Top 5 Home Tech Trends for 2018: From Smart Home Services to 'Chief Security Officers'
Mass-market smart-home services, converging physical and digital security, tunable white lighting, MDU installs, and video projection comprise CE Pro's Top 5 Home Technology Trends and Opportunities for residential integrators in 2018.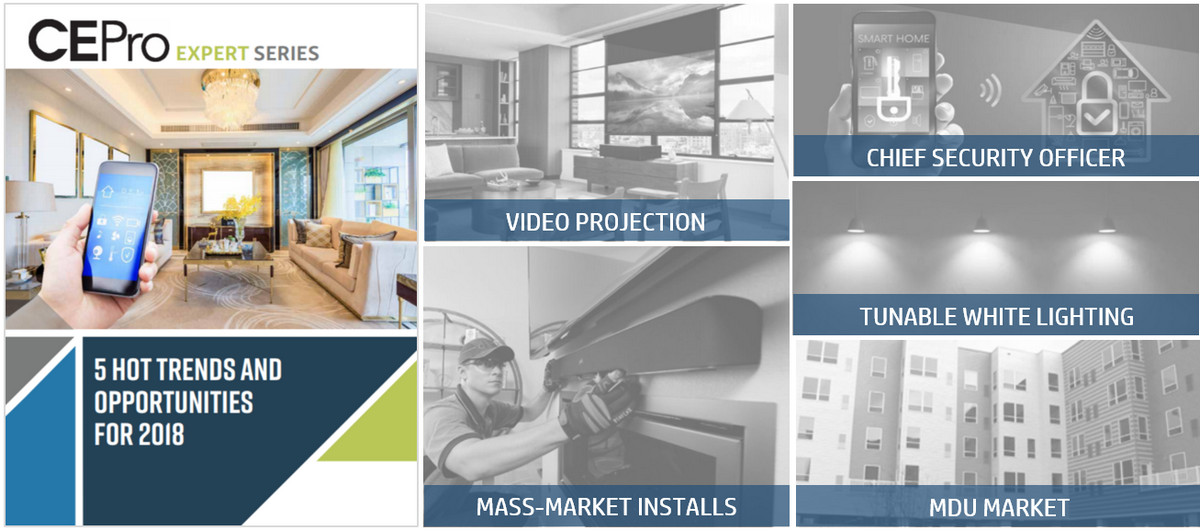 Julie Jacobson
Every year, CE Pro selects five home-technology trends and opportunities for pros who install audio, video, security and home automation systems.
Voice control, virtual reality, 4K, smart home as a service (SHaaS), mass sensorization, high-resolution audio (HRA), IoT awareness … all of these themes made our "Trends" lists just one or two years before they significantly impacted the smart-home installation channel.
This year, CE Pro editors and advisors identified these Top 5 Home Tech Trends & Opportunities for 2018:
1. Mass Market Smart-Home Services
Amazon Smart Home Services, Best Buy Smart Home Services, Dish Smart Home Services, Enjoy, and many other mass-market providers emerged in the last two years. While these new services pose some threat to independent integrators, they also generate visibility for the professional-install channel, which it hasn't enjoyed before.
2. Chief Security Officer for the Home
First we had traditional "home security" to protect against physical threats, such as home invasions. Then came data security to protect against digital threats, such as IoT hacking. Today, these two disciplines are merging, and we can expect -- as in the corporate world -- to see a new category of professionals: the chief security officer (CSO) for the home.
---
---
3. Tunable White Lighting
Science shows that the lighting can affect our moods, productivity, sleep and other functions. A cooler (bluish) hue can boost our energy, while a warmer (reddish) tone can calm us. Tunable white lighting, with variable color temperatures that can change automatically or manually, can help humans improve performance, moods and overall health.
4. Multi-Dwelling Unit (MDU) Market
MDUs, including apartments, condos and hotels are providing fresh opportunities for home technology and the pros who install it. Millennials and others seeking low-maintenance lifestyles, are choosing MDUs over single-family homes, and they expect modern-day, high-tech amenities to go with it.
5. Video Projection Systems
Never before has the video-projection category provided such rich opportunities for residential installations. Short-throw projectors, projection mapping, projectors as home-control interfaces, and new screen materials and form factors will drive adoption -- and professional installation -- of video projectors and accessories.
DOWNLOAD THE FREE 'TOP 5 TRENDS OF 2018' REPORT BELOW
DOWNLOAD THE FREE REPORT BELOW." />
About the Author
---
Julie Jacobson, recipient of the 2014 CEA TechHome Leadership Award, is co-founder of EH Publishing, producer of CE Pro, Electronic House, Commercial Integrator, Security Sales and other leading technology publications. She currently spends most of her time writing for CE Pro in the areas of home automation, security, networked A/V and the business of home systems integration. Julie majored in Economics at the University of Michigan, spent a year abroad at Cambridge University, earned an MBA from the University of Texas at Austin, and has never taken a journalism class in her life. She's a washed-up Ultimate Frisbee player currently residing in Carlsbad, Calif. Email Julie at jjacobson@ehpub.com
Follow Julie on social media:
Twitter · LinkedIn · Google+
Julie also participates in these groups:
LinkedIn · Google+
Home Theater
Product Briefs: Dish Apple Business Chat; Savant, Google Home; RTI Jandy Drivers; Luxul PDU Drivers
Move Over HDBaseT, VR Industry Embraces USB-C for One-Wire Tech
Integrator Challenged to Mount Two TVs on One Fireplace
CEDIA 2018 Find: TV Template Wins the Show for Best Instructional Video
ADA Custom Built Program Puts Integrator Brand Name Front and Center
View more on Home Theater
Take Our Latest Quizzes
Quiz: Is Your Company Performance Above or Below Average?
How Much Do You Know About Cell Phone Signal Boosters?
How Efficient Is Your Service Department? Take the Quiz
5G and the Need for Cellphone Signal Boosters—Do You Know Enough?
How Well Do You Understand HDBaseT?