One of the Best Integrator Descriptions of 'Why You Should Prewire'
Tym Smart Homes provides one of the simplest, most persuasive descriptions of why homes should be prewired vs. going all wireless.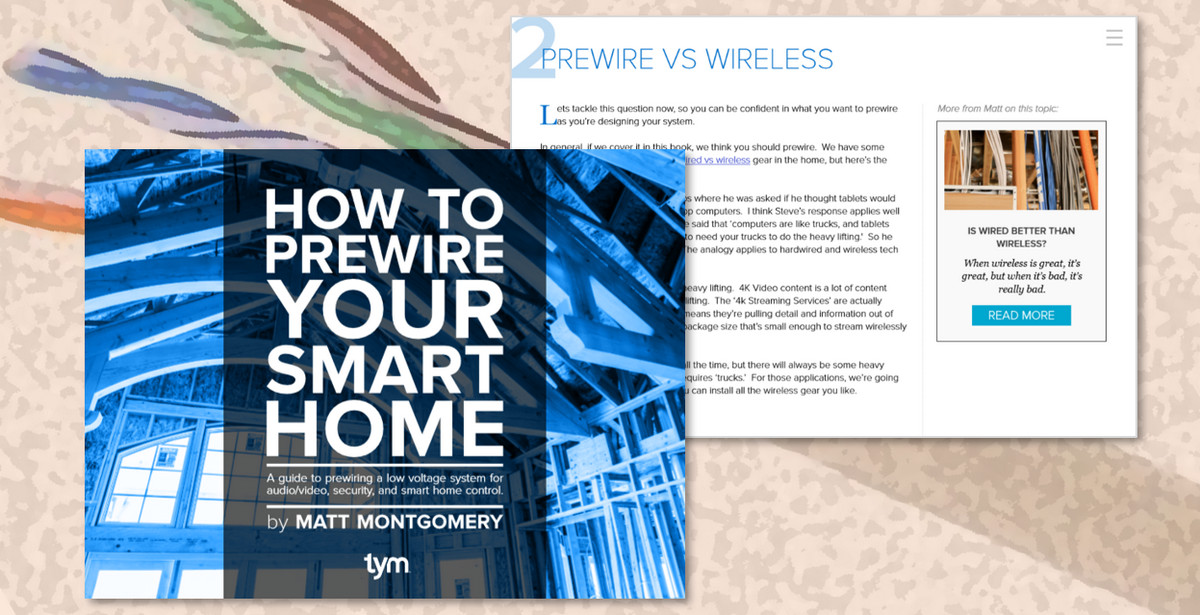 Julie Jacobson
·
July 11, 2018
We all know there are many great reasons to prewire a home with Category cable and coax vs. going all wireless. It's often difficult to articulate those reasons to consumers, however.
In its consumer-friendly e-book, "How To Prewire Your Smart Home," the integrators at Tym Smart Home provide a simple explanation that avoids the jargon and makes a compelling case. Here's the brief excerpt:
Prewire vs. Wireless

Let's tackle this question now, so you can be confident in what you want to prewire as you're designing your system.

In general, if we cover it in this book, we think you should prewire. We have some great posts on our site about hardwired vs. wireless gear in the home, but here's the short and skinny of it.

I heard an interview with Steve Jobs where he was asked if he thought tablets would bring an end to laptops and desktop computers. I think Steve's response applies well to our discussion. Paraphrasing, he said that "computers are like trucks, and tablets are like cars. You're always going to need your trucks to do the heavy lifting." So he believes we'll always need both. The analogy applies to hardwired and wireless tech in the home as well.

You prewire the items that do the heavy lifting. 4K video content is a lot of content to stream. It requires some heavy lifting. The "4k streaming services" are actually compressing the content – which means they're pulling detail and information out of the content – to squeeze it into a package size that's small enough to stream wirelessly in your home.

Wireless technology is improving all the time, but there will always be some heavy lifting to do inside the home that requires "trucks." For those applications, we're going to prewire. For everything else you can install all the wireless gear you like.
---
2019 State of the Industry Special Report - CE Pro Download
The custom electronics industry saw a healthy 8 percent growth rate in 2018, down slightly from the blazing 11 percent growth in 2017 but still admiringly strong. Our 2019 State of the Industry indicates that readers expect to see even more growth in 2019. Get your copy today.
---
About the Author
---
Julie Jacobson, recipient of the 2014 CEA TechHome Leadership Award, is co-founder of EH Publishing, producer of CE Pro, Electronic House, Commercial Integrator, Security Sales and other leading technology publications. She currently spends most of her time writing for CE Pro in the areas of home automation, security, networked A/V and the business of home systems integration. Julie majored in Economics at the University of Michigan, spent a year abroad at Cambridge University, earned an MBA from the University of Texas at Austin, and has never taken a journalism class in her life. She's a washed-up Ultimate Frisbee player currently residing in Carlsbad, Calif. Email Julie at jjacobson@ehpub.com
Follow Julie on social media:
Twitter · LinkedIn · Google+
Julie also participates in these groups:
LinkedIn · Google+
Networking & Cables
Are Your Ethernet Connections Exposed to Harsh Elements?
4 Adhesives Every Technician Should Have in Their Truck
Product Briefs: Rutherford Audio, Goldnote; ProSource adds Dish; Sonos Joins D-Tools i3
Here's How to Use Yamaha MusicCast to Build the Backbone of A/V System Interoperability
NSI Industries Merges With Platinum Tools
View more on Networking & Cables
Take Our Latest Quiz
How Well Do You Understand Ethernet Cables and Connectors?
Bose