Elan Controlled, Alexa Voice-Activated Game Room Helps Homeowner Enjoy Retirement
Elan automation plus Amazon Alexa voice control gives this English homeowner the ability to set up specific commands for his game room such as 'Alexa, turn on darts' to set a special lighting scene for playing darts.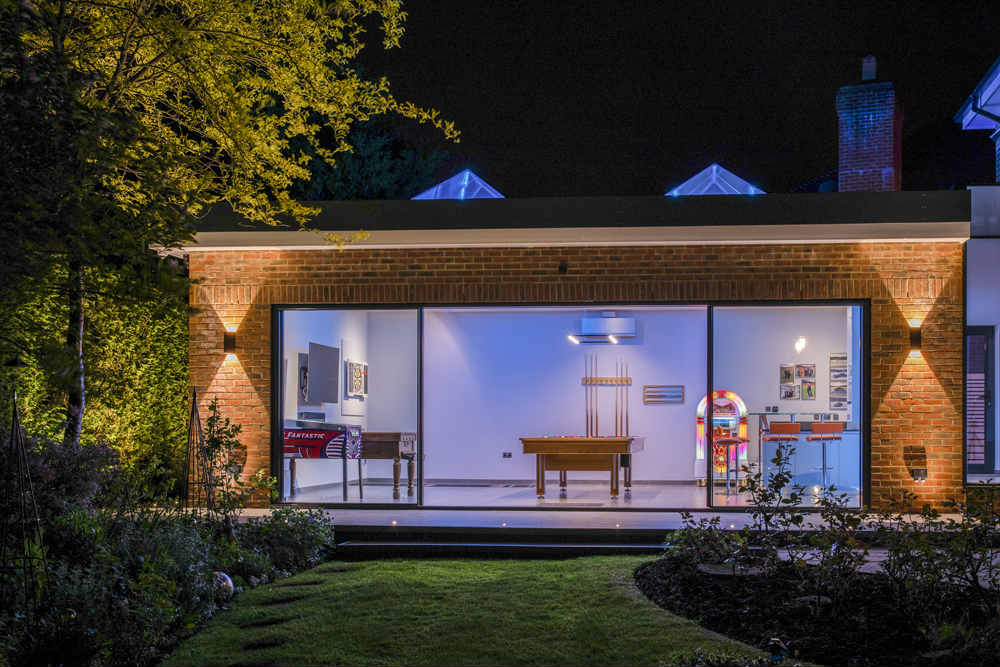 February 19, 2019
When one Esher, England resident recently retired, he decided that a professional-style game room and entertainment addition would be the ultimate retirement gift to himself. What he didn't know was just how sophisticated his new space could be, so he contacted Smart Life AV, a London-based integration company, to find out what options were available to him.
"At a fairly early stage in the process, my architect suggested I speak with a local company to help me look at home automation," the homeowner says.
"So I met with Mike Ranpura at Smart Life AV, frankly not having much idea what was possible. He took me to his showroom where I got firsthand experience with the capabilities in terms of lighting, sound, and automation in general. That opened my mind."
Now, through a combination of an Elan Control System, Amazon Alexa voice controls, and a full complement of connected equipment, he has full, simple control of multi-color LED lighting, motorized window blinds, multi-room audio and video, heating, cooling, security, a decorative water fountain, and a gas-powered fireplace!
Ranpura decided to include an Amazon Echo to enable Alexa voice control, with the final result becoming a veritable wonderland with motorized QMotion window blinds that open when the owner says "Alexa, turn on sunshine," and RGBW multi-color LED tape lighting that can bathe the entire game room in any color of light.
"One of our favorite parts of this project was being involved with the lighting design, choosing the fittings and watching how the game room transforms into a jaw-dropping space in the evenings," Ranpura says.
"The goal was to create a bright and fun space, seamlessly blending traditional games and the latest technology whilst retaining simple control. Elan helps bring everything together, providing a clean and easy-to-use interface for our client."
Alexa Enables Customizable Scenes for Darts, Sky TV
A 10-meter extension uses two equipment racks to automate nearly all functions of the game room and adjoining living room, offering the owner his first taste of home automation through a mobile device or voice control.
With his smartphone, the owner can now adjust the Rako lighting system, the Heatmiser and Coolmaster HVAC controls, and audio and video through Elan matrices.
The Elan system integrates multiple Sonos wireless audio zones, and each of several Panasonic TVs can display video feeds from centralized Sky cable boxes, CCTV and other media players. Switching between functions takes just a few taps in the app, with preconfigured scenes and schedules making daily operation simple.
"From our perspective as integrators, compatibility is extremely important, which is another reason Elan was the best choice, because the company has done a great job in keeping up with new third-party devices that cover every home function from heating to security,"
— Mike Ranpura, Smart Life AV
So far, Ranpura has programmed the system to respond to several specific voice commands through the Amazon Echo, including "Alexa, turn on darts" that sets a special lighting scene for playing darts, "Alexa, turn on Sky" that turns on the TV and sets it to Sky TV, and "Alexa, turn on fountain/fireplace" which activates or deactivates those devices respectively.
In addition to the voice and mobile controls, four separate TV areas (game room, living room, family room, and kitchen) all have Elan remotes, which function like traditional TV remotes with the added capability of controlling the entire Elan automation system through the color touchscreen.
Finally, a 7-inch Elan touchpanel in the game room provides always-on, guaranteed access to the system.
"It was also important to the client that we didn't have intrusive wires and equipment scattered throughout the rooms, and everything that was specified worked from an aesthetic point of view," Ranpura adds.
"Using two equipment racks, we centralized all the main components in a dedicated rack room whilst taking into consideration future expansion of the system by having a secondary equipment rack in the loft. This included running CAT6A as standard and linking two network switches together with fiber optic cabling.
"From our perspective as integrators, compatibility is extremely important, which is another reason Elan was the best choice, because the company has done a great job in keeping up with new third-party devices that cover every home function from heating to security," he says.
Related: Elan Home Automation Controls Tesla Powerwall, Koi Pond, More in Stunning Showroom
In the end, this first-time automation user was thrilled with his new high-tech capabilities and the experience of working with Smart Life AV and Elan.
"The room is great fun, and I think having things like Alexa control just adds to the spirit of the space," the homeowner says.
"The Smart Life AV team was easy to work with, had a good sense of humor, clearly understands what they are doing and are very attentive, particularly in project management. I would highly recommend Smart Life AV to anybody who wants to introduce home automation to their house."
---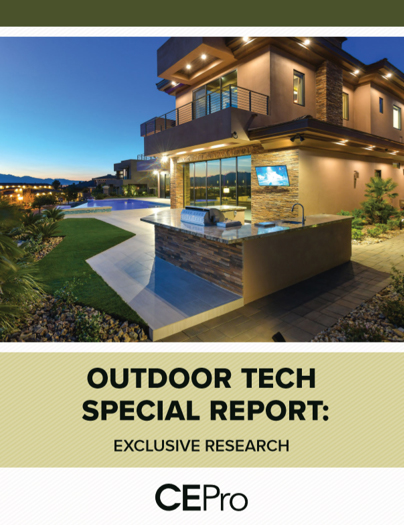 Find Out Why 63% of Integrators Expect Outdoor Business to Grow - CE Pro Download
The outdoor technology market is growing – both the demand from customers and the array of products available. According to our recent CE Pro survey, integrators are taking advantage of this opportunity to grow their businesses. Get your copy of the survey today.
---