Channel Vision ARIA In-Wall Streaming Amp's 'Deep Sleep' Mode Conserves Power
According to Channel Vision, the ARIA In-Wall Amplifier & Audio Streaming Source features a 'deep sleep' mode that can conserve power and enhance device pairing, security, reliability, and speed.
CE Pro Editors ·
April 12, 2019
Channel Vision, a manufacturer of smart home technology products, has combined its ARIA in-wall 100-watt amplifier with wireless music streaming capabilities into a small single gang box.
The ARIA Audio by Channel Vision In-Wall Amplifier & Audio Streaming Source (A0362) is equipped with a built-in Bluetooth 4.2 module and a 100-watt Class D audio amplifier to provide an all-in-one solution to audio streaming.
With the latest Bluetooth 4.2 technology, Channel Vision says users can enjoy further streaming distances while using less power.
The company says the A0362 also features a "deep sleep" mode to conserve power and enhanced device pairing, security, reliability, and speed.
The Low Energy Consumption (BLE) function within the deep sleep mode will draw less than 35 mA of current, which according to Channel Vision, makes it the lowest standby power draw of all custom in-wall amplifiers.
Recent enhancements within the iOS and Android app allow users to set up an equalizer with bass boost, treble, and 3D sound control.
In addition, security codes for each user are used along with a "master" password, giving landlords or homeowners the ability to reset the password before inviting guests or tenants to their residence.
Features:
Bluetooth 4.2 Module
Low Energy Consumption (BLE)
100 Watt Class D Amp / 50w per channel
Power Connection in Back (screw terminals)
Front Power Plug by special order
Cat5 Audio Input from RJ45 in the wall
Automatic audio routing/override
IOS and Android App setup and control
Equalizer Audio Enhancements
3D surround sound enhancements
Bass Boost technology
2.5 amp, 24 VDC power supply included (2-conductor wire to power supply adapter may be desired, model 2143F by Channel Vision)
---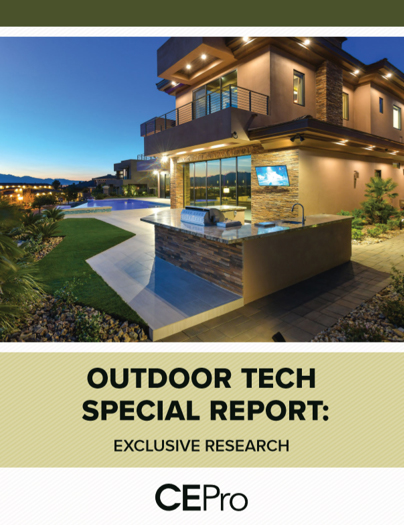 Find Out Why 63% of Integrators Expect Outdoor Business to Grow - CE Pro Download
The outdoor technology market is growing – both the demand from customers and the array of products available. According to our recent CE Pro survey, integrators are taking advantage of this opportunity to grow their businesses. Get your copy of the survey today.
---