6 Amazing TV Installs: Gorgeous Finishes, Fancy Frames, Disappearing Screens #SoCustom
A motorized slab of marble drops down to reveal a 65-inch TV; flip-out mount is the only answer for bedroom TV; new printable glass bezels add class to Aquavision TVs ... and more #SoCustom TV installs shared on social media.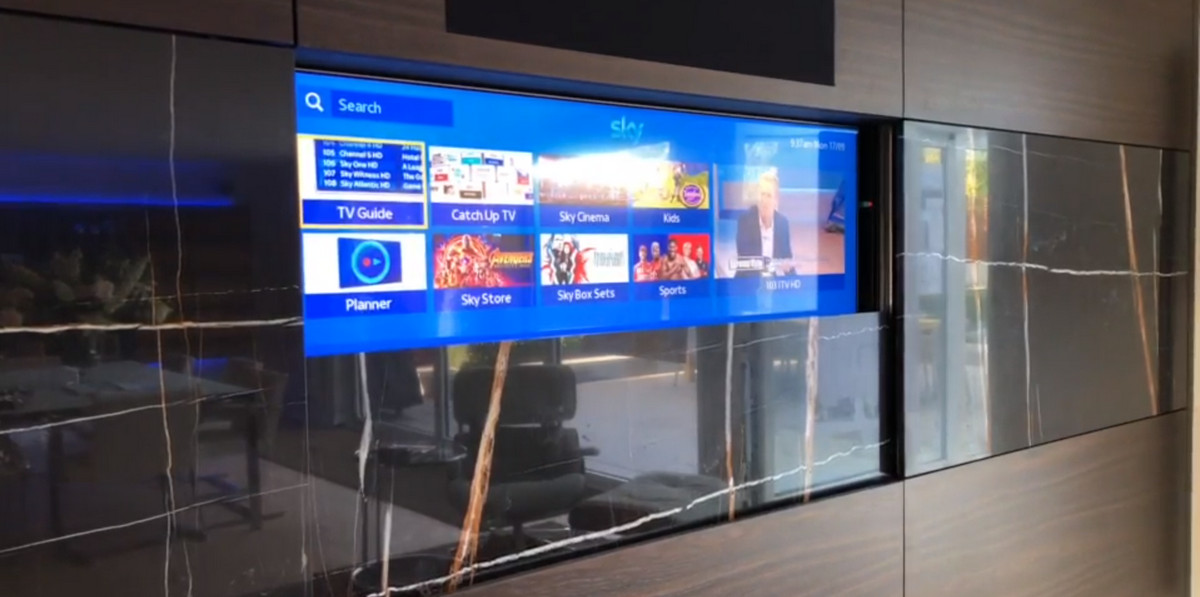 Julie Jacobson
·
October 1, 2018
The best way to see some of the best audio, video and smart-home installations is to follow home-technology integrators on social media, especially Linkedin. Integrators like to show of their best work, and it's a great platform for industry cohorts to post comments and ask questions about the jobs.
Here we round up six #SoCustom jobs from Linkedin, with a couple videos below and more beauties in the gallery.
Moving Marble
Stuart Burgess, managing director of UK's Just Add Popcorn isn't getting when he calls this installation a "stunning job." The video below pretty much speaks for itself, but Burgess notes on Linkedin the company used a Sliding Panel System (SPS) from Future Automation, which he calls "an awesome bit of kit."
While industry folks gushed over the craftsmanship, some expressed concern about the tight tolerances required of such a pristine installation. One integrator worries, "I just wonder about any panel TV moving around that much each day. With the issues HDMI already have the more you move these sets your likely to experience unique problems. The idea is great but just too many moving parts for me."
The most useful comment of the day is this one:
Really slick! I love the exacting tolerances. Both interior designer & AV dealer/installers can rejoice with a solution such as this! With tolerances/precise dimensions such as this...I would actually sell them a 2nd backup set to have on hand for the future. Anyone in the know will surely know why;-)
Burgess says the complete job cost the client about £30k, "with around half being the AV side of the install." The client has requested a similar install in the bedroom.
---
Flip-Out TV
Admit it. You've seen this Hidden Vision motorized mount at CEDIA Expo and you laughed at the demo, wondering who on earth would install that goofy thing. Well, Andrew Vaccaro of Phoenix Systems LLC had a client who "loved our install so much he made a video" (below).
As it turns out, the mount was practically the only option for this client, whose bedroom had "nothing but windows in front of the bed and vaulted ceilings, so we could not put in a drop-down TV," Vaccaro writes.
View more #SoCustom projects in the gallery.
---
7 Clever Ways to Hide Home Technology - CE Pro Download
Most technology products are not that visually appealing. Black boxes and tangled wires do not add to the character of a high-end smart home project. Luckily, our integrator readers have a number of clever solutions so these components don't have to be visible in your next project.
---
About the Author
---
Julie Jacobson, recipient of the 2014 CEA TechHome Leadership Award, is co-founder of EH Publishing, producer of CE Pro, Electronic House, Commercial Integrator, Security Sales and other leading technology publications. She currently spends most of her time writing for CE Pro in the areas of home automation, security, networked A/V and the business of home systems integration. Julie majored in Economics at the University of Michigan, spent a year abroad at Cambridge University, earned an MBA from the University of Texas at Austin, and has never taken a journalism class in her life. She's a washed-up Ultimate Frisbee player currently residing in Carlsbad, Calif. Email Julie at jjacobson@ehpub.com
Follow Julie on social media:
Twitter · LinkedIn · Google+
Julie also participates in these groups:
LinkedIn · Google+
Home Theater
SnapAV Acquires Volutone, Adding 7 Distributor Locations
Product Briefs: Atlona, Josh.ai; Luxul Self Healing; Naim adds AirPlay 2; PS Audio OS; SnapAV
American Audio & Video Introduces $650 and $900 Thorens Turntables
Wounded U.S. Army Captain Nick Vogt Receives Custom ELAN Smart Home
Video Maven John Bishop: MicroLED Claims are 'Fake News'
View more on Home Theater
Take Our Latest Quizzes
How Well Do You Understand Ethernet Cables and Connectors?
Quiz: Is Your Company Performance Above or Below Average?
How Much Do You Know About Cell Phone Signal Boosters?
How Efficient Is Your Service Department? Take the Quiz
5G and the Need for Cellphone Signal Boosters—Do You Know Enough?